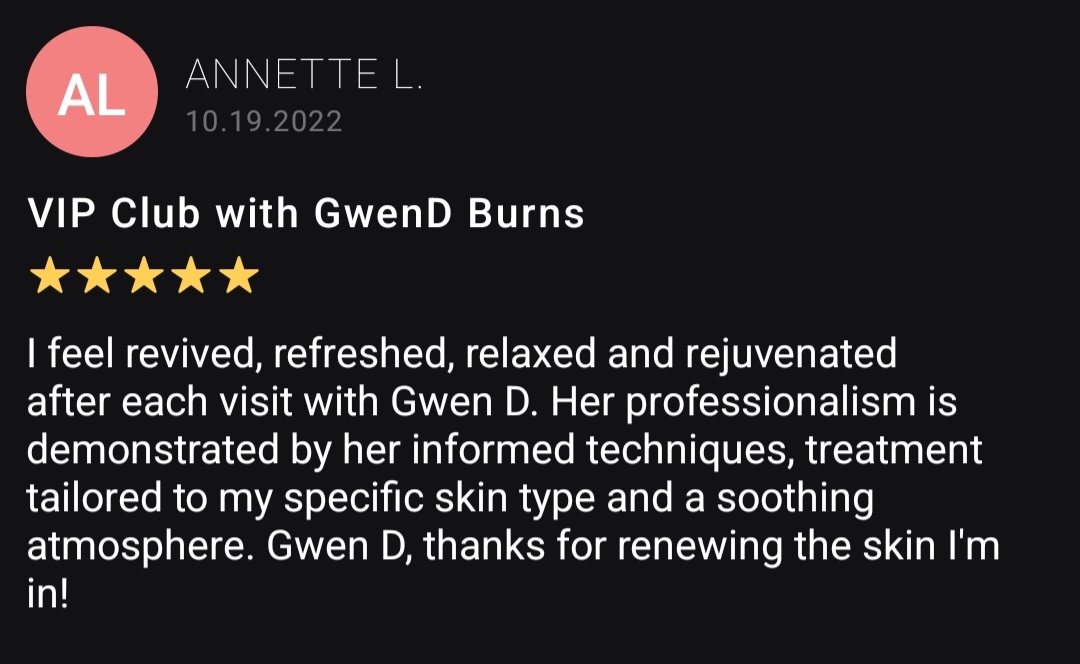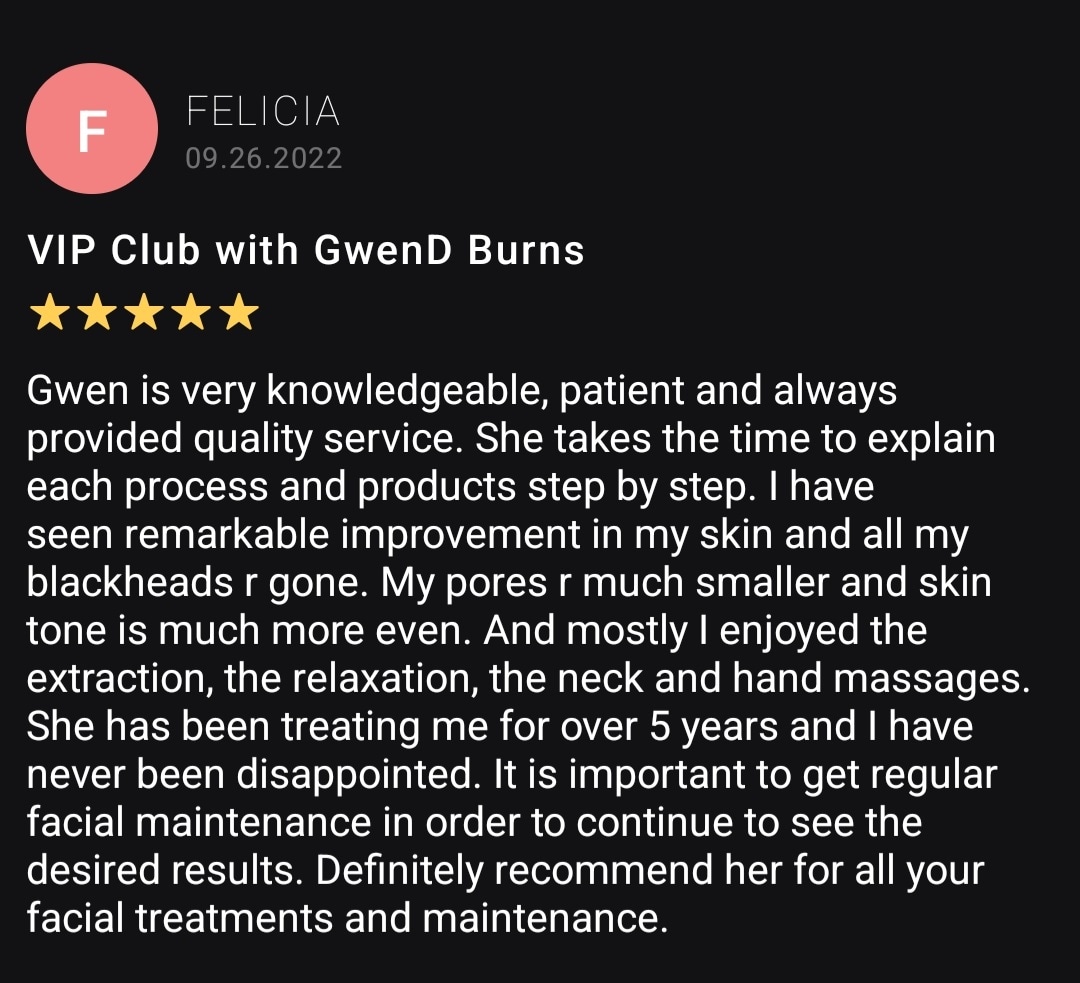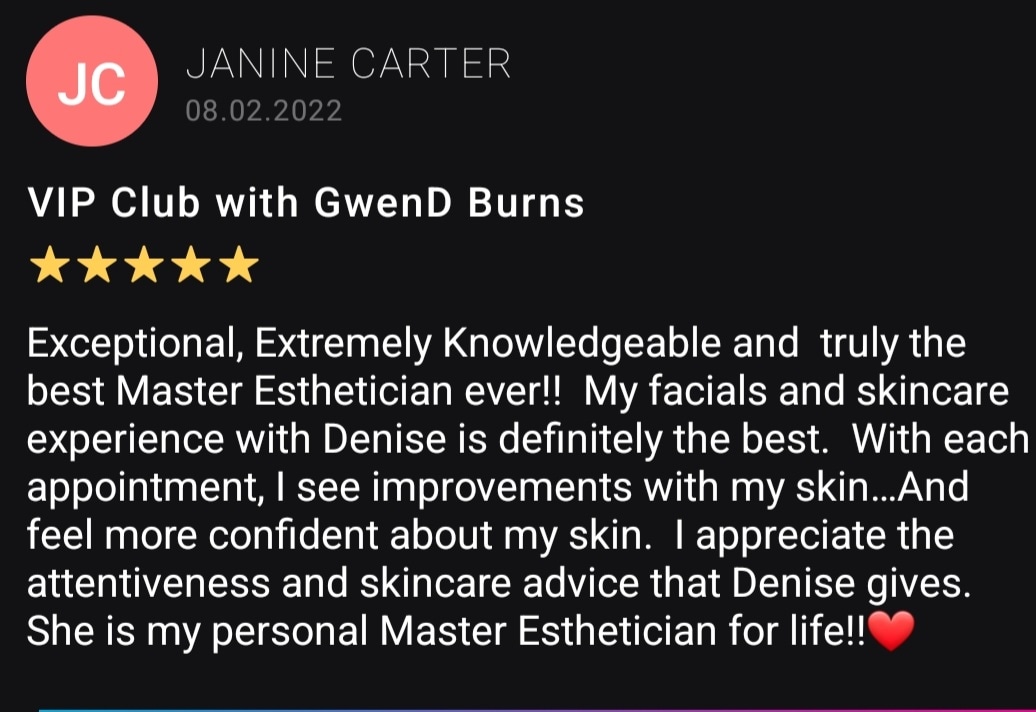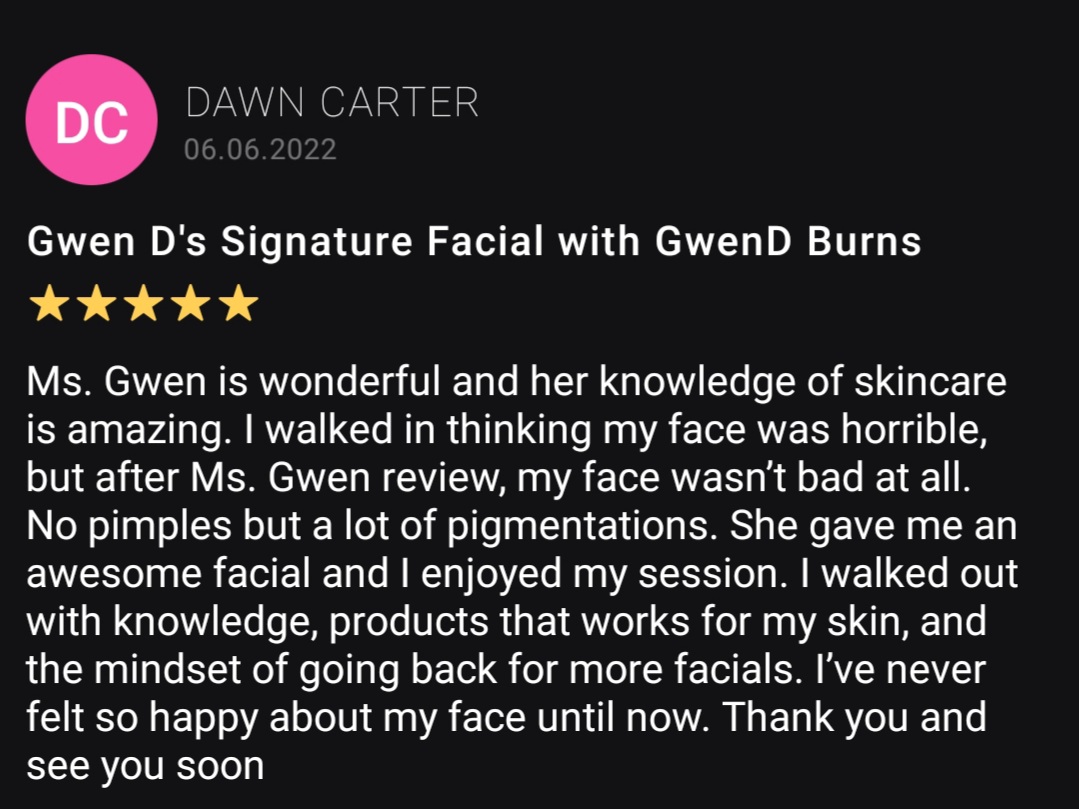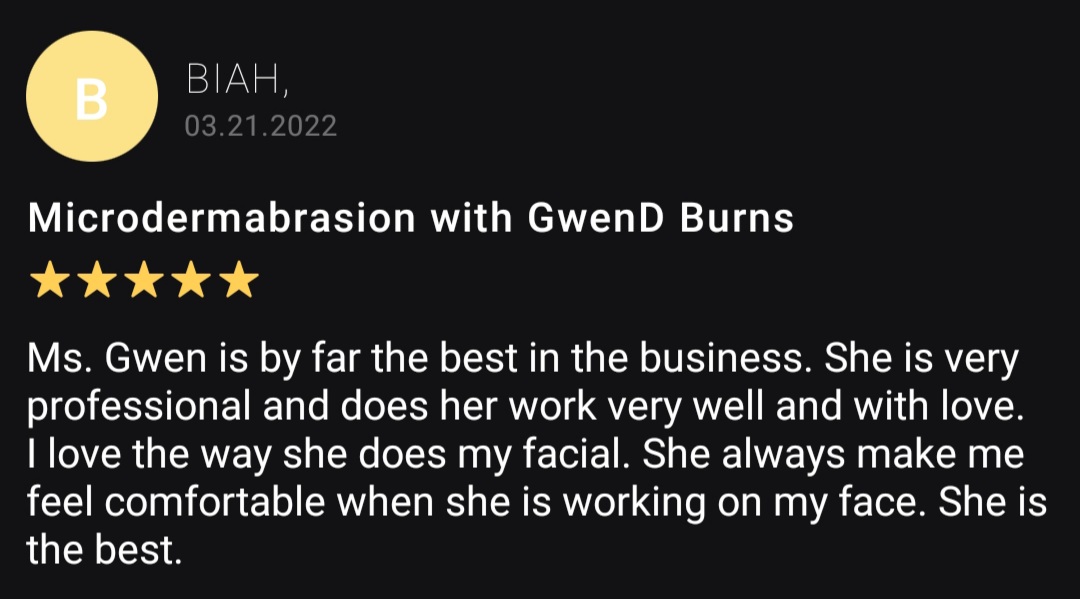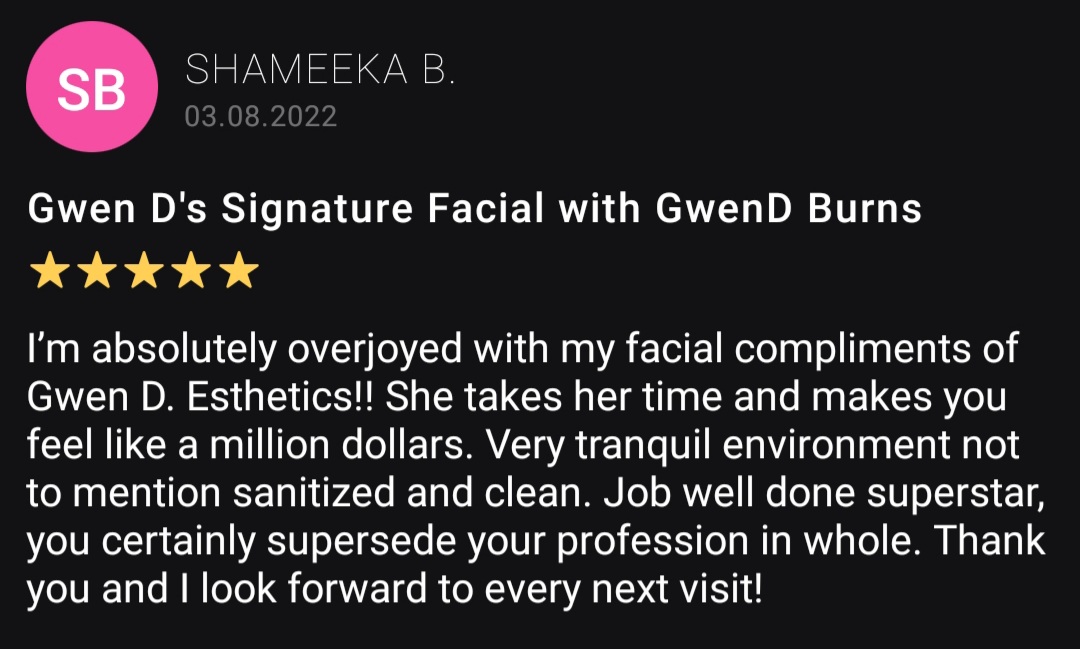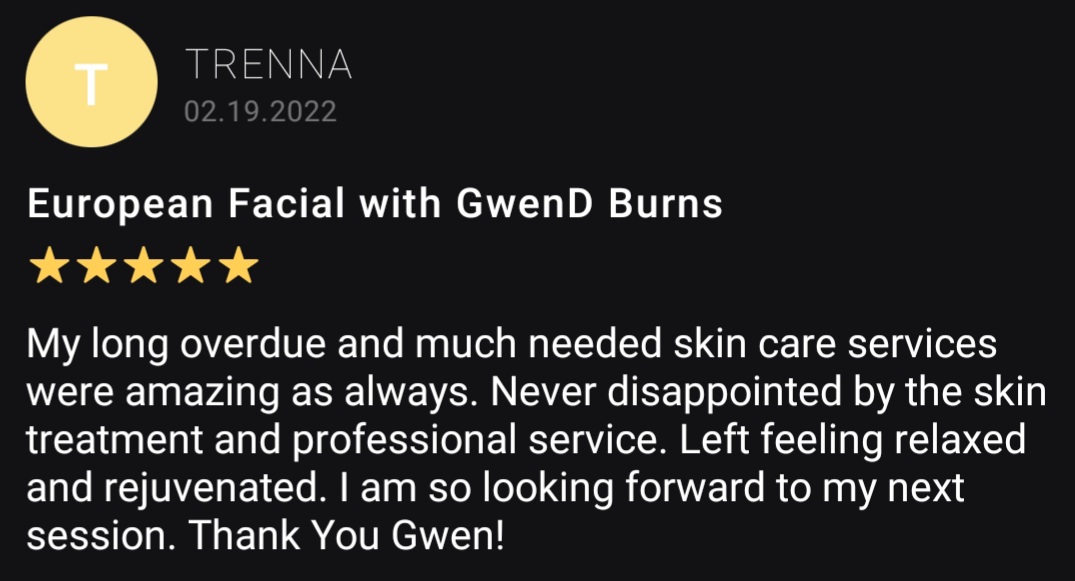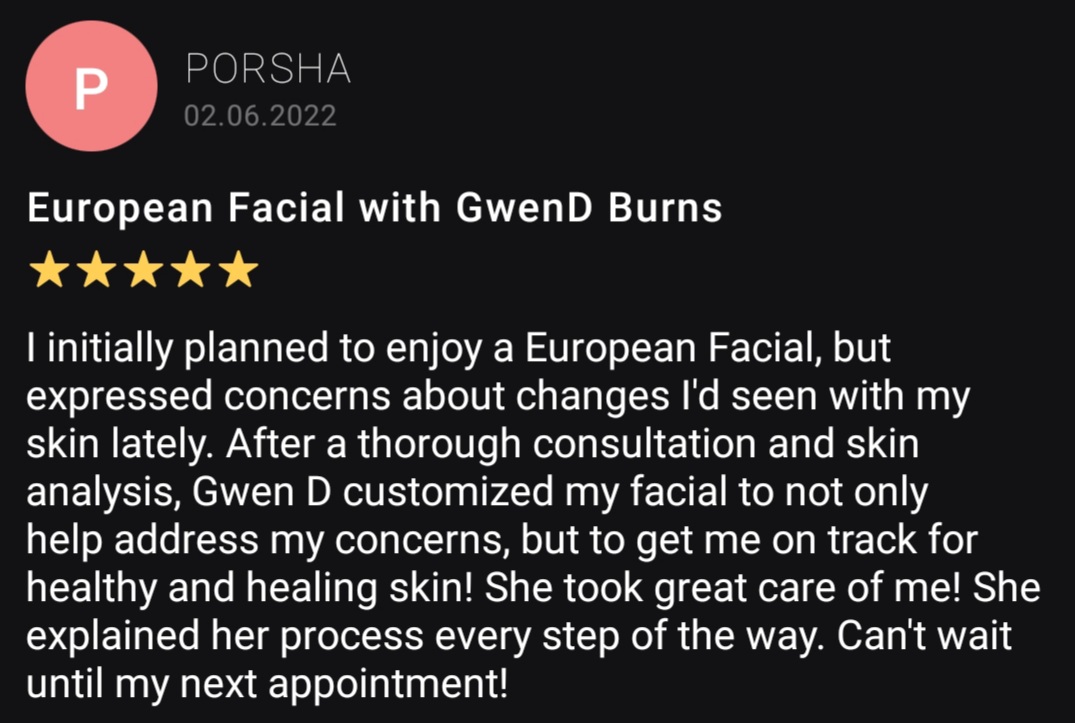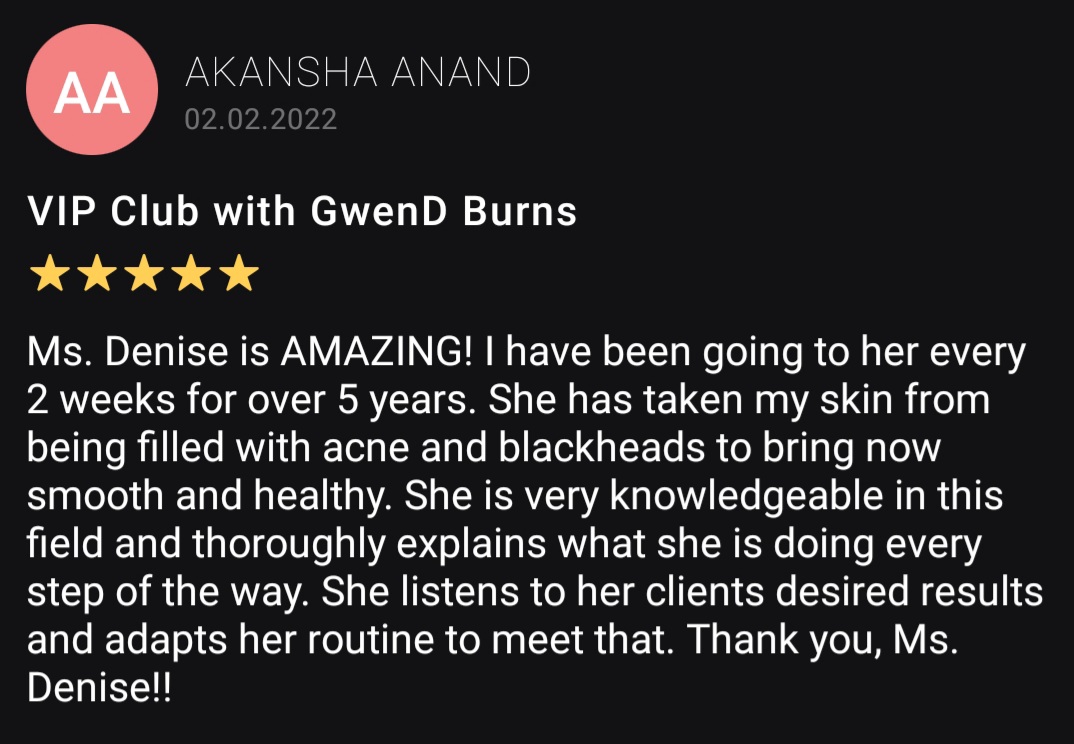 Sondra W 19 Jan , 2020
This is my second visit to see Denise to get a facial. I find that her place of business is very inviting. She is very knowledgeable of skin care and talks with you as she goes through your facial session with you describing all of the products that she is using and their benefits on your skin. I thoroughly enjoy the massage that she gives you along with the facial. Denise is truly wonderful in her profession and I now wonder why it took me so long to get started. I believe that once she gives you her wonderful facial treatment you will be returning for another.
Joyce Vala 18 Jan , 2020
Denise is an amazing Esthetician. I've been going to her for over an year (missing a few months and my face suffered) She is Professional...she looks at your skin and gives the facial that you need... done meticulously! I would NOT go to anyone else.. I love love my Denise (Gwen) Burns and what she does for my skin.
Akansha 18 Jan , 2020
Ms. Denise is AMAZING! I have been going to her for over 5 years now and she has taken my skin from being filled with blackheads to having very few now! She always takes her time and gives 110% with every session. My skin always looks refreshed after every session!
Annette L. Dec 3, 2019
I am not a person who gets facials or massages on a regular basis. But one thing I can say, this was the best experience I have ever had. I knew what Denise did but didn't know to what extent. Her expertise in her field is beyond what I expected. Her hands are anointed to me. Her knowledge of the skin reveals how much she loves what she does. The therapy treatment was thorough, pleasantly soothing and I didn't want it to end. My face felt smooth as baby's skin and I looked revitalized. I love the care she gave me and her concern for my skin. Gwen's attention to skin care is not just what she does but who she is - one who cares about her client. The atmosphere was peaceful and relaxing. Thanks Gwen for a GREAT session! I highly recommend her for your needs.
Lois Nov 2, 2019
Best facial EVER!!! I use to feel like I could not leave home without makeup but since Denise been giving me facials I love the skin I am in.
Umeki Oct 28, 2018
I Love Love Love my facial treatment by Denise. Her passion for what she does, and her ability to recognize what's going on with my skin is admirable. When I leave from my treatment, my face feels extremely renewed. I dare to put on any makeup for a couple of days. By the way, the face, neck and shoulder massage tops off the treatment. Denise is My Aesthetician!
Brandalynn G. October 9, 2018
This was the very first time I went to get a facial done and I must say that I'm very happy that I picked Mrs. Gwen to do it ! Acne and dark spots/acne marks are a huge concern for me, and I've been going to a dermatologist for those concerns but haven't had much luck in that area. When you go to the dermatologist you're in and out, but she took the time to listen to my concerns, suggest what would work best for me and my skin, and evaluate it closely under a magnifying glass and bright lights to see the problem areas. Not only that, but I also feel like she did so much for my skin for such a great price and was very honest about what products I didn't necessarily need which not everyone does. It's only my first session so far, but I left out there feeling relaxed and with baby soft skin which I haven't felt since..well I really can't remember when. I am definitely looking forward to my next sessions so I can achieve the clear skin I've been praying for. Thank you so much Mrs. Gwen !
Breyana H. August 4, 2018
Gwen has helped me so much with clearing my skin in just 3 months!
Thank you so much Breyanns for the review. It is customers like you who keeps me going.
Felicia B August 7, 2018
I have been going to Gwen for more than a year for my facials. She is very professional, knowledgeable, warm and personable. I really like the advice she gives with different products and she does not take the "one size fit all" approach. Treatment is personalized to fit your goals. And you don't have to sit and wait. I definitely recommend her for all your aesthetic needs.
Joyce V August 13 , 2018
Gwen is the best....very informative with your skin needs, spends time looking and treating those needs. Pleasant, friendly and most importantly, Professional. I send all my friends and family her way
LaShawnda S. August 1, 2018
I went to her for dermaplaning because I felt my skin needed some rejuvenation. It was a great experience. She is knowledgeable, gentle and efficient. It's only been a few days and I can see a difference in my skin already. Highly recommend.
Thank you so much for the review. It is customers like you who keeps me going.
Akansha A. August 1 , 2018
I love getting my facials here! I have been seeing Ms. Denise for over 2 years and within that time, she transformed my skin from being dry and full of acne and blackheads to being hydrated and clear. Ms. Denise always listens to my concerns at the start of every facial and adapts accordingly. I continuously recommend Ms. Denise to my family and friends!
January 30, 2018 Janine C.
I am absolutely loving my skin right now!!! It like looks smooth, healthy and hydrated!! Thank you!!
I think I want that Freddie Crouger Mask again!!
September 21, 2017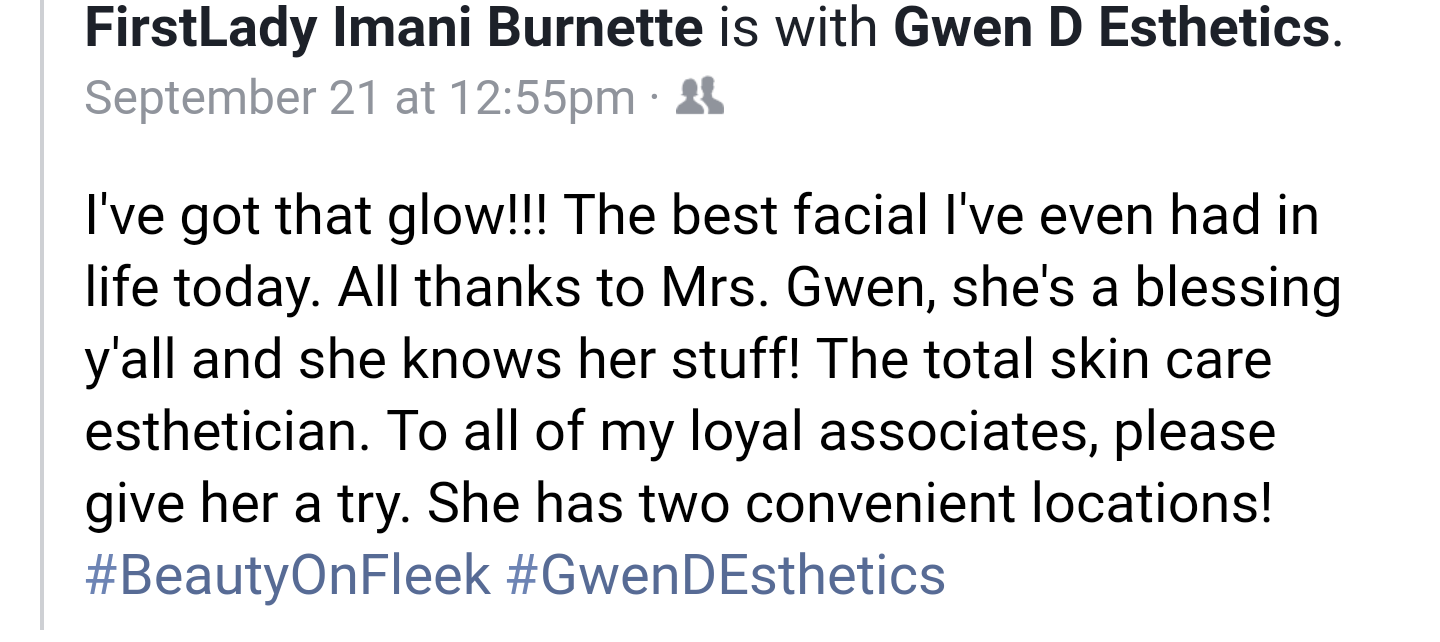 Jan 29, 2017 Via C
I have enjoyed the services of Gwen D many times, and I have always found her to be an excellent esthetician. Gwen D gets you in a relaxed state of mind, and then she talks you through each step. Then comes the wonderful natural Zen sounds as she starts to apply facial products to correct and prevent damage to my skin ever so gently which relaxes me so, it puts me to sleep. When it is time for me to rise and see my glowing skin, "ooh la la" , I'm feeling and looking great. I think, man I hate to have to get off Gwen's table, but it's been a tantalizing experiences.
Jul 06, 2016 Gloria B
I love the excellent facial and professional service Denise provided. Her personalized attention to my particular skin type is noteworthy. She gave tips to help me take better care of my skin. After she finished, my skin looked amazing! I recommend Denise to family and friends.
Jul 04, 2016 Sharlene N
Warm mellow environment, soft music, nice smells, tasty treats and a facial and massage to die for! This is what I received when I visited Denise's salon. I would recommend her services wholeheartedly.
June 30, 2016 Porsha B.
Gwen is one of my absolute faves when it comes to my facials! I've been a client for maybe a couple year's and she never disappoints. She's gentle, yet thorough...pays close attention to my "problem areas"... and always offers great suggestions for improving my skin. I absolutely love her and would definitely recommend her services!
May 26, 2016 Janine
I absolutely love EVERY facial experience!! I've had facials in the past, but never one like what Denise does. She truly focuses on skincare and my skin looks and feels amazing every time!!! Awesome, amazing, attentive and fully knowledgeable about skincare best describes my facial experience with Denise!!!
May 19, 2016 Samantha
Super service! Denise is so knowledgeable, finally found someone to help clear my acne. My face looks and feel great...Also love the VIP service membership because every 7th facial and birthdays are free...
Oct 18, 2015 Alice D
The most amazing facial I ever encounter! I received the Vitamin C Facial and my face looks & fell so refresh. The hand, arm and upper back and shoulder massasge was magnificent.